What's the average number of foreigners transiting on this specific route? How many business-man choose my company to travel? During Messina's stop-over, how many people decide to stay on the cruise?
After having acquired experience on multiple markets and developed pilot projects within water transportation, Motion Analytica has decided to expand towards this sector with multiple techniques to study mobility trends within cruises, ferries, and ports.
Our solution allows firms to gain a deep understanding and punctual analysis of its catchment area characteristics. By studying Telco data, alongside other private and public sources, we are able to provide valuable insights regarding customers' behaviour. Such information can be crucial for leveraging effective strategies and efficient investment decisions.
Motion Analytica also supports companies in creating customized solutions, to meet any specific need through original and innovative projects.
Contact us to start exploiting the full potential of your data!
PORTS

.
Comprehension of the real catchment area by assessing the main characteristics of the demand
Understanding of the most common mobility services used by water passengers within the destination
Monitoring of the competition with a constant analysis of market shares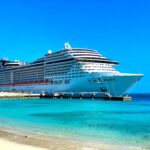 CRUISE & FERRIES COMPANIES
Analysis of trends and neuer travel needs of different user profiles
Punctual definiton of demand and monitoring of market share, also related to the specific route
Identification of the main tourist destinations to plan coherent offers and understand new potential routes
PUBLIC ADMINISTRATIONS & MOBILITY PROVIDERS
Monitoring of people inflow and outflow within port areas
Data driven evaluation of the importance of water transport on the mobility complex
Identification of the main destinations and tourist experiences of passengers, to support strategic decisions
Analysis of boat travellers


Travellers profiles
Users' behaviour and trends

Analysis of ferries trips

True origin – true destination
Multi-modal trip composition
Port area analysis

Presences
Users profiles (travellers and non-travellers)

Market share at segment and maritime company levels


Competitive scenario definition
Catchment area analysis
Touristic behaviour of travellers